December 29, 2011 ¤ Listed in : Ruben Cardenas - Poetry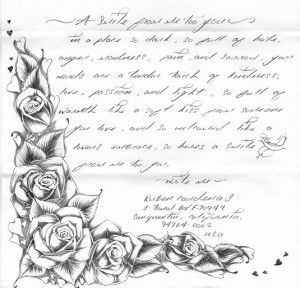 – Ruben Cardenas – View Profile
Friend or family of an Inmate? Download an Inmate Penpal listing form here.
Ruben Cardenas #F70949
1-Tamal – Box F70949
San Quentin, CA 94974-0002

I would like letters from Women.
Embed Ruben on your Site – See Example


– View Profile –

Looking for a woman with a beautiful smile, provative side and varied interests. A woman who will share lifes.

Ruben Cardenas
California Inmate

Email Ruben Cardenas Now
Send a letter now to this inmate penpal online.
We print and deliver to the Post Office for you.
Inmates do not have access to the internet or email. However we offer an Email-to-Letter print and mail service. While most Departments of Correction encourage correspondence with inmates they do not condone unsolicited commercial mail. Solicitation of prisoners is strictly prohibited by all State and Federal Correctional Facilities.
Before you contact any inmate listed on Prison Inmate Penpal read this first.